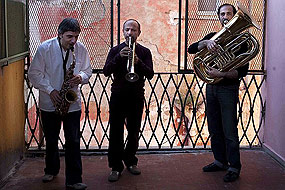 TOOT Music
C'è chi dice che la musica di Out of Tune sia jazz, c'è chi dice sia musica colta contemporanea, e chi invece è convinto che Out of Tune sia costituito da un gruppo di fuoriusciti anarchici fuggiti da una banda balcanica che fanno "Musica Proprio Così".

In Out of Tune, le radici della musica popolare, si rifrangono in soluzioni inaspettate e sorprendenti come luce in un caleidoscopio.

The Out Of Tune Music, TOOT Music: il suono onomatopeico della creatività. Divertente, drammatica, ballabile, riflessiva, inaudita: narrante.